Bellemore is customer focused with a commitment to sustainability
The Bellemore Septic Service team is available 24/7 and 365 days a year. Whether you have a single home, multi-unit, commercial or industrial property, Bellemore Septic is ready when you need us.
We provide timely, reliable and professional services in an environmentally safe, responsible and respectful manner. Our trained technicians and specialists are committed to your satisfaction and will work with you to determine the best solution to meet your needs. That's our commitment to you.
Clogged drain?
If your drain is clogged, we'll address that emergency situation, or set up regularly scheduled maintenance services to keep your lines clear. And speaking of clear lines, we can do a video inspection of your pipes.
We offer jetting with high pressure water for all lines including sewers, septic tank lines. etc.
How often should you inspect your septic system?
Tanks need to be well maintained to operate at their best. They require inspection every 1-3 years, depending on which region you're in.
Typically, we recommend servicing tanks every 2 years. They will need to be serviced more frequently for more occupants in the home and certain types of soaps (liquid soaps are harder on septic systems than powder). Also, any medical conditions and the types of paper products discharged through your system will impact the frequency of service.
Also, if your home remains vacant for more than six months, septic problems can arise and an inspection is recommended.
We offer full septic tank inspections of your entire system, including inlet and outlet baffles. Once your septic pumping service is complete, we do a complete tank baffle inspection. Baffles that are operating ineffectively can seriously damage your leach field by allowing solids to pass through.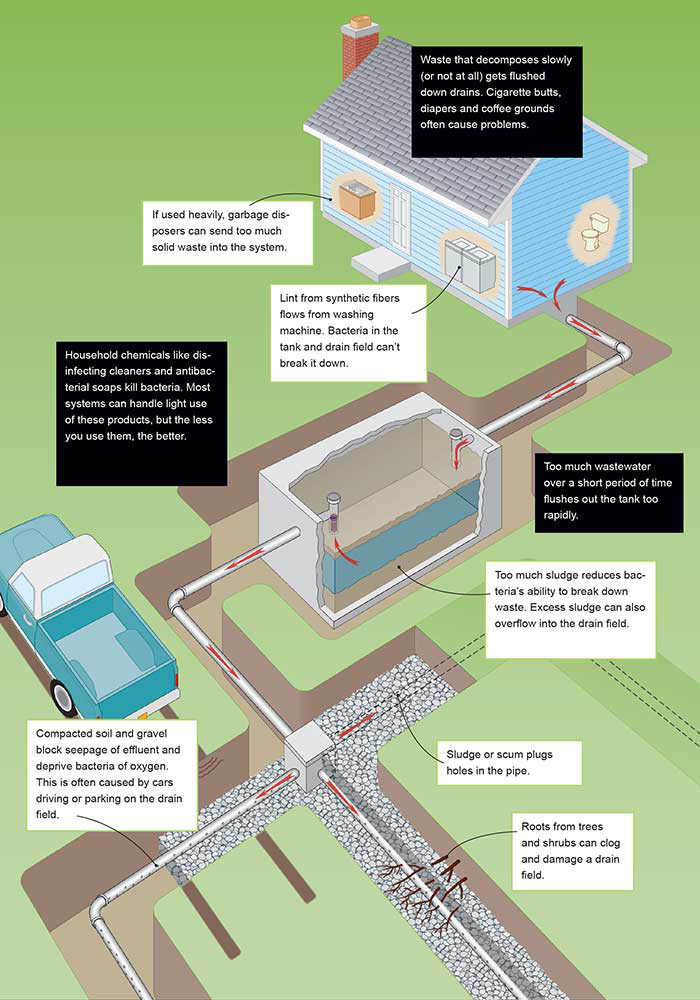 Care and maintenance tips
Proper septic repairs and maintenance services are very important to keeping your system running properly. The key to this is being careful of what goes in your tank–don't treat it like a trash can. You should always know the location of your tank, and if you are unsure, our septic company will be happy to locate it for you.
You should be aware of how to check your leach field for system failure. We recommend that you never put grease, toxic materials, diapers, or feminine products in your toilets or sinks, and that you don't plant trees within 30 feet of your system.